People often ask me which WordPress SEO plugins and tools I think are the best.
I know this because search engines send a lot of people to most pages on the internet. If you make your website search engine friendly, it will show up higher in search results and your business will grow a lot.
Read on to learn about the best WordPress SEO apps and tools you should use. There are some tools that can do the same things, so I will also list them and tell which are the ones that are best for certain uses.
What You Need to Know About SEO Tools and Plugins for WordPress Before Using Them
You will find articles with a list of more than a dozen tools when you look for "best free WordPress SEO plugins" or read any SEO tips for WordPress.
For beginners and non-tech users, this can be quite overwhelming.
You really don't need dozens of top SEO tools to move up in the search engine ranks.
Even though most blog posts, including this one, will list the best and most famous SEO plugins, it is very important that you know how to use each one.
One example is that you should never have more than one WordPress SEO plugin on your site.
I'll talk about Yoast SEO, Rank Math, and All in One SEO (formerly All in One SEO Pack). You need to only choose one so that plugins don't clash or interfere with each other for the same task.
I'll talk about SEMRush, Ahrefs, and a few other strong tools. But you don't need all of them because they all have the same features and use case you just have to choose one of them which you find correct choice for you.
I'll talk about some of the business tools I use and which ones have the best benefits according to my personal experience as well.
So now let's look at the best WordPress SEO plugins and tools, one by one that I think you should use.
12. SEOQuake
The SEOQuake tool is helpful for people who own websites. The Google Chrome, Mozilla Firefox, Opera, and Safari web browsers can all add it as an add-on/Extension.
It gives SEO information about any website in your SERPs. This information includes the age, health, last change, Alexa rank, and a lot of other things. It's one of the browser add-ons that SEO experts download the most.
Besides that, when you put a keyword into the SEOQuake toolbar, it can show you the same data search results.
If you want to see how much competition there is for different keywords, this knowledge can be very helpful. You can even save search results as CSV files and use them to make your own Excel sheets.
11. Redirection
Redirection lets you set up WordPress redirects that are good for SEO. It's a useful tool that lets you check for broken links and fix 404 problems in WordPress by setting up redirects.
It's bad for your site's SEO and users to have broken links. If you've had a blog for a while, you should check it every once in a while for broken links and fix them.
You can quickly find broken links in WordPress in a number of ways. If you find a broken link, you might need to either remove the broken link or redirect users to the right one.
Alternative: AIOSEO Advanced Redirects is an effective substitute for the Redirection tool.
10. KeywordTool.io
KeywordTool.io is one of the best free tools you can use right now to find keywords. You can easily come up with keyword ideas by typing in a keyword.
These keyword suggestions come from Google's "autosuggest" feature. Additionally, it displays keyword suggestions from Google, YouTube, Amazon, and other sources.
These suggestions for keywords are a gold mine of data. By upgrading to their paid plan, you can also get information about how often people look for each keyword, how much it costs per click, and more.
9. Schema Pro
You can make your website stand out in search results by adding rich snippets with Schema Pro.
With rich snippets, you can make your website stand out in search results by putting star scores below reviews, prices below products, pictures or videos next to descriptions, and similar things.
Your website already has structured rich snippets of data thanks to top WordPress SEO tools like All in One SEO (AIOSEO).
But Schema Pro is the way to go if you need more schema types or want to make your current WordPress SEO plugin do more.
Schema Pro can be used with another WordPress SEO plugin by mapping the plugin's data to Schema Pro fields.
8. Rank Math
Another WordPress SEO plugin that allows you to improve your website for search engines and social media is called Rank Math.
It is user-friendly. It has a setup wizard and allows you to import data from other SEO apps while you're doing so.
It makes it simple to add Open Graph information, meta titles, and descriptions to your blog posts.
In addition, the plugin allows you to connect to Google Search Console, create an XML sitemap, and restrict user access to plugin features based on user jobs.
Note: Rank Math can be used instead of AIOSEO. Don't forget that your site only needs one WordPress SEO plugin.
7. SEOPress
SEOPress is another one of the easy but powerful WordPress SEO plugins.
Meta title, description, Open Graph support, picture and content XML sitemaps, redirects, and more are just a few of the features you would expect from an SEO plugin.
For new users, it has a simple setup, and for more seasoned users, it has more complicated controls. It has about the same number of features and choices as other top WordPress SEO plugins on the market.
Other premium WordPress SEO plugins on the market cost more than this one's paid version.
Note: SEOPress is an SEO plugin for WordPress. Don't forget that your site only needs one WordPress SEO plugin.
6. Ahrefs
Ahrefs is an SEO analysis tool that marketers, bloggers, and businesses can use all at once. It offers many of the same tools and features as SEMRush and is a well-known alternative.
It allows you to perform keyword research, competition research, backlink research, SEO audit, track keyword rankings, and more.
It also offers a thorough keyword analysis tool that helps you target specific keywords and improve your content.
A lot of the features that both are good at are the same. What Ahrefs does best is backlink analysis. It lets us know which sites link to a lot of my rivals but not to us. This helps us get more links back to my site and make more associations.
They also help us figure out what content my rivals are ranking for that I am not, So that I can write about those topics to get more attention.
Another great thing about Ahrefs is that it helps us find duplicate content and keyword cannibalization. This lets us combine and improve the right content to improve my rankings.
I pay for both SEMRush and Ahrefs because they are both useful for specific use cases.
5. Google Keyword Planner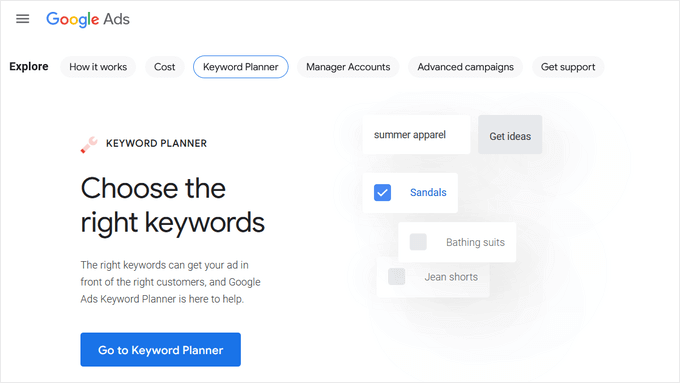 Google's Keyword Planner tool helps you come up with your own keyword ideas.
Google, the search giant, knows more than anyone else what people are looking for. Google's advertisers can use this tool for free, but anyone can use it too.
The main thing it does is show advertisers the keywords they can bid on for their ads.
It also helps advertisers pick the right keywords by giving them an idea of how often people search for something, how many results there are, and how hard the keyword is.
You can use this information as a writer or content marketer to find keywords that get a lot of searches, are interesting to advertisers, and, most importantly, are easy for your site to rank higher than all the others.
4. Yoast SEO
Yoast SEO is a well-known WordPress SEO plugin that lets you make your site better for search engines.
For all of your website's posts and pages, it makes it easy to add SEO-friendly names and descriptions. Plus, you can use it to add Open Graph metadata and pictures for social media to your posts.
Yoast SEO makes an XML sitemap of all the content on your website instantly. This makes it easier for search engines to crawl your website. It also makes it easy to import your SEO data if you have been using a different SEO plugin.
Readability analysis, Google and social previews, and faster start times are some of the other features that make it better for users.
3. Google Search Console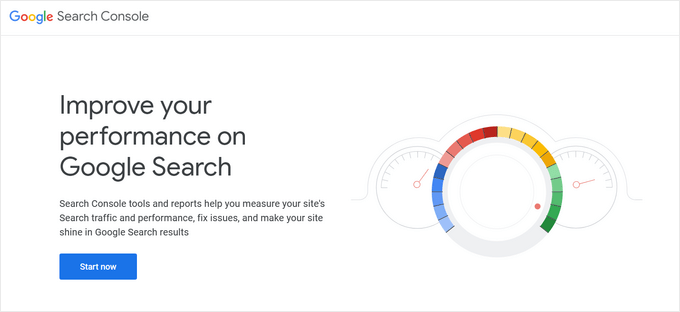 Google Search Console is a free tool that website owners and webmasters can use to keep an eye on and improve their site's position in Google's search results.
It lets you know when Google can't crawl and index website pages. You also learn how to fix those crawl mistakes, which is very helpful.
It shows your website's keywords, anchor texts, average place, impressions, and more. This is the most important thing it does.
To find keywords where you can easily rank higher by just making your content better, you can use this data. This keyword data can also help you think of new blog post topics.
2. Semrush
Semrush is the best SEO tool out there in general. Professional SEO experts, marketers, writers, and both big and small businesses use it because it has all the tools you need to get more visitors.
It can help you find natural keywords and search terms that are simple to rank for. It also allows you to conduct competition research to determine which keywords your rivals rank for and how you can outrank them.
This tool from Semrush helps you make your website's content better so it ranks higher than the top 10 results for your main keyword. It works with WordPress, which will help you write content that is better for SEO.
Additionally, you can create SEO templates and receive both basic and advanced SEO suggestions for your content.
To help you find more keyphrases for your main keyword, Semrush works with All in One SEO (AIOSEO) seamlessly.
Right from WordPress, you can see similar keyphrases and search volume. After that, it's easy to add them to your content.
The competitive intelligence and SEO rank tracker features of Semrush are why I use it for my websites.
1. All in One SEO for WordPress (AIOSEO)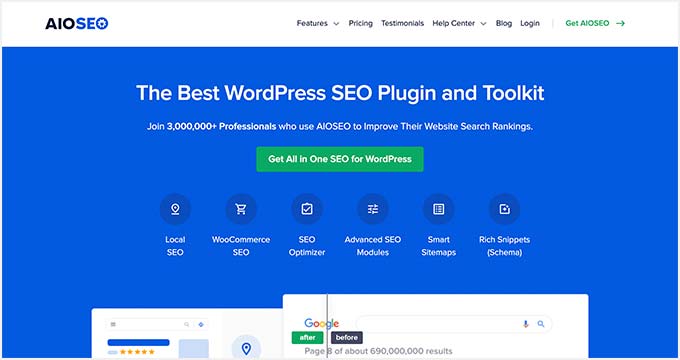 The best WordPress SEO plugin out there is All in One SEO for WordPress (AIOSEO). It is the most complete SEO toolkit, with over 3 million users, and it helps you improve your search rankings without having to learn any difficult SEO jargon.
The free version of AIOSEO has all the important features, but the paid version has everything you need to outrank your rivals.
It has an easy-to-use setup wizard that helps you pick the best SEO settings for your business. You can use AIOSEO's TruSEO on-page analysis and actionable checklist to make your posts and pages better.
The on-page SEO checklist has a smart meta tag generator that lets you use changeable values in your SEO title and meta descriptions.
These values can be the current year, month, day, custom fields, author information, and more. So you don't have to change the whole post to just change the SEO title.
AIOSEO also has Rich snippet schema markup, smart XML sitemaps (with advanced controls), an SEO health check, and other features that can help your site show up higher in search results.
You can add Open Graph information to your posts on social media sites that are already built in. When your pages are shared on social media websites like Facebook, Twitter, Pinterest, etc., you can select which picture or thumbnail to display.
A powerful schema generator helps you get Google star scores and other rich snippets.
AIOSEO also has WooCommerce SEO tools built in for sites that sell things. Dynamic optimizations, individual product page optimizations, product picture SEO, and other useful features to get more free traffic to your online store are some of these.
For users who know a lot about SEO, it comes with an advanced redirect manager, 404 tracking, breadcrumbs, ChatGPT AI tools, Google News sitemaps, video SEO, full control over RSS feeds, a Robots.txt editor, local SEO, and more.
It comes with SEO user jobs for business owners, so you can control who can use your website's important SEO features without giving up control.
A Link Assistant, which is a game-changer for internal linking, is something AIOSEO offers in contrast to other SEO plugins.
There are link opportunities that it helps you find, real-time linking suggestions, and the ability to add a lot of internal links with just a few clicks.
Related: AIOSEO offers a free Broken Link Checker Plugin that checks all the links on your site to make sure they work.
Instead of updating each post or page, you can quickly fix broken links right in the plugin when they are found.
AIOSEO has also added a Search Statistics add-on that you can use in your WordPress dashboard to keep track of keywords, see search details, and more.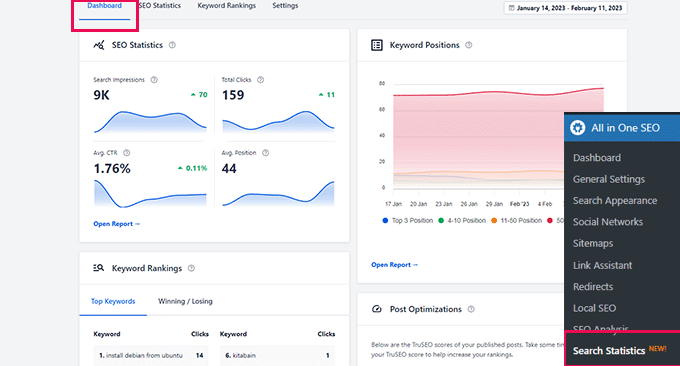 All in One SEO (AIOSEO) is the best WordPress SEO plugin for beginners because it does everything you need it to do.
You don't have to add multiple plugins to do things on your WordPress site because it's easy to set up.
It works great for all kinds of websites, including blogs, news sites, eCommerce sites, and more.
You get 50% off AIOSEO Pro as a WPBeginner user.
If you don't have a lot of money, you can use the free version of AIOSEO to begin.
Plugins for WordPress Website Owners
When you are optimizing your website for SEO, these tools give you an extra edge. They don't call themselves SEO tools, but they're necessary for every website and have a significant impact on how well your site performs in search results.
2. MonsterInsights
For many beginners, marketing choices are based on their best guesses. The information you need to improve your website's SEO plan is easy to find, so you don't have to do guessing about everything that you do.
Data is the most important part of the work in SEO.
When it comes to Google Analytics plugins for WordPress, MonsterInsights is the best. It makes it easy to add Google Analytics to WordPress and shows reports that are easy for people to read in the WordPress dashboard.
Your top content, where your users are coming from, what they do on your website, and more are all revealed to you. By observing which goods are selling well and which ones aren't, you can also track your eCommerce SEO.
You can also add notes directly to your MonsterInsights reports to keep track of changes you make to your site, like when you change the meta title of your homepage, post a new blog, or run an ad campaign. The effect of those events on your traffic can then be easily tracked.
Bonus Tip: find out what other data you need to track on your website in order to make informed decisions on your SEO or marketing strategy.
1. WP Rocket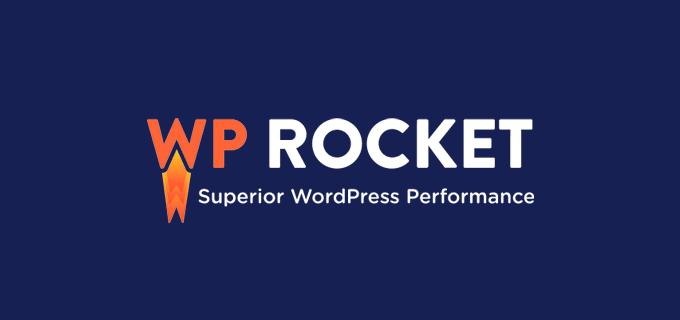 Site speed is a big part of how well it ranks in search results. So, you should keep an eye on your website's speed and performance to make sure it's not hurting your SEO.
By enabling caching, you can quickly speed up your website. The best WordPress caching plugin on the market is WP Rocket. It lets you set up caching without having to know a lot about code.
Alternative: WP Super Cache
Other Powerful Growth Tools:
Besides the plugins listed above, I also suggest the following tools to help you get more SEO users and turn them into customers:
PushEngage: To connect and interact with SEO visitors after they leave your website, use web push alerts.
OptinMonster: Turn visitors who are about to leave into email followers and buyers.
Constant Contact: you can use email marketing to stay in touch with SEO users.
WPForms: It is the best WordPress form builder. Use it to get more leads from your SEO traffic.
SeedProd: Use a drag-and-drop WordPress page builder to make custom landing pages that are good for SEO (no code required).
UserFeedback: Use short pop-up polls to find out what people like and dislike about your website and how you can make it better.
The best WordPress SEO plugins and tools for your website should have been found thanks to this article.
If you liked this article, please follow me on my social media accounts as well. You can find me on YouTube, LinkedIn and Twitter too.