Ever wished you could duplicate a WordPress page or post with just one click?
Duplicating not only copies the content but also the design, settings, and metadata, making it a time-saving game-changer.
In this article, I'll guide you through the quick and simple process of duplicating and optimising any WordPress page or post.
Let's make your content creation more efficient and keep that consistent look across your site – all with just a click!
Why Clone or Duplicate a Page/Post in WordPress?
There are moments when you find yourself needing a clone of a WordPress page or post, complete with all its intricate settings.
Perhaps you wish to replicate the design of a highly successful sales page or transform an older article into an entirely new post.
This happens to me quite frequently when I'm creating websites for my clients, especially when I need to duplicate a page's design for the creation of a similar page.
And doing this manually takes a lot of time and effort, I mean manually copy and paste the page's content into a new draft, this method falls short of capturing essential elements such as the featured image, post settings, SEO configurations, and other critical metadata.
Now Let me share with you a more efficient solution—how to duplicate a WordPress page or post with a single click.
Video Guide
But if you prefer written instructions, then just continue reading…
Duplicate a WordPress Post or Page
You can copy a page or post and all of its settings with Duplicate Post Plugin. You can copy the text and settings of an old post to a new draft with this plugin.
It also has a useful feature called "Rewrite and republish," which lets you update an older post without immediately appearing live on your WordPress website.
To begin, you will need to download and set up the plugin.
Once it's been turned on, go to Posts » All Posts or Pages » All Pages, or just the ones you want to copy the information from.
To copy any post, just move your mouse over it and click on "Clone" or "New Draft."
"Clone" makes a copy of the page or post, but it doesn't open it in the WordPress editor.
"New Draft," on the other hand, makes a copy of the post and opens it in the content editor so you can start working on it right away.
With the bulk edit tool, you can copy many pages and posts at once. To copy more than one page or post, just check the box next to each one and open the dropdown menu. By default, it will show "Bulk Actions."
Choose "Clone" or "Rewrite & Republish" from the drop-down menu.
Then just click "Apply."
It can save you a lot of time and make your WordPress editing process much better.
Let's Explore Duplicate Post Plugin Settings
Yoast Duplicate Post tool works right away and can handle both posts and pages. You can, however, set it up to copy unique post types or change the parts that it copies as well.
Go to Settings » Duplicate Post.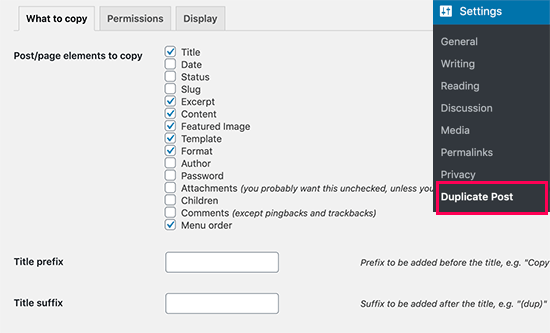 Once you've installed Yoast Duplicate Post, you'll have access to a comprehensive list of content elements that it can duplicate, including the title, excerpt, and attachments.
Just go through the checkboxes, selecting or deselecting the items based on the specific elements you want to copy.
Afterward, navigate to the 'Permissions' tab for the next step.
By default, administrators and editors have the ability to duplicate posts. You can easily customize this by checking or unchecking the relevant boxes, depending on who should have the privilege of duplicating posts.
For instance, in a multi-author WordPress blog, enabling this feature for authors could be beneficial.
For those using custom post types, you'll find them listed under 'Enable for these post types.' Simply mark the checkboxes next to the custom post types you wish to include in the duplication process.
If you're utilizing WooCommerce, you'll also discover the option to duplicate WooCommerce 'Orders' and 'Coupons.

To complete the setup, navigate to the 'Display' tab and decide where you'd like the duplicate links to appear on your WordPress blog.
In the 'Show links in' section, you can effortlessly customize the display by checking or unchecking the boxes.
This allows you to add or remove duplicate links from various locations such as the post list, edit screen, and more.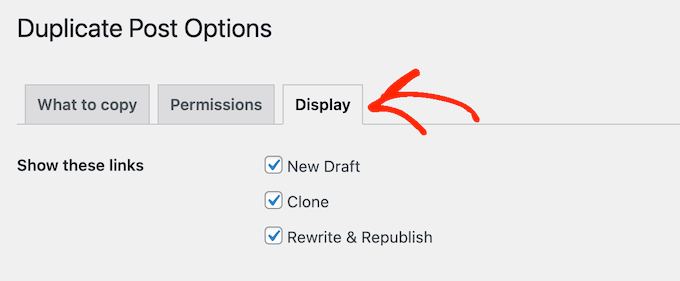 By default, the plugin integrates 'New Draft,' 'Clone,' and 'Rewrite & Republish' links into your WordPress dashboard.
Should you wish to eliminate any of these links, simply uncheck the corresponding box or boxes.
When you're satisfied with the configuration of the plugin, click on the 'Save changes' button to preserve your settings.
More WordPress Plugins for Duplicating Pages and Posts
While Yoast Duplicate Post offers robust functionality, there are other plugins in the WordPress ecosystem that cater to the same need.
Depending on your preferences and specific requirements, consider these alternatives:
Before making your choice, evaluate the features and reviews of each plugin to find the one that aligns best with your workflow and website requirements.
Conclusion
Duplicating pages and posts in WordPress doesn't have to be a time-consuming task. With the right plugin, you can streamline your workflow and maintain consistency across your site.
Whether you stick with Yoast Duplicate Post or explore other options, these plugins are valuable tools for simplifying your content creation process.